The Advantages of Driving With Your Cell Phone
Dated: 1 Apr 2013
0 Comments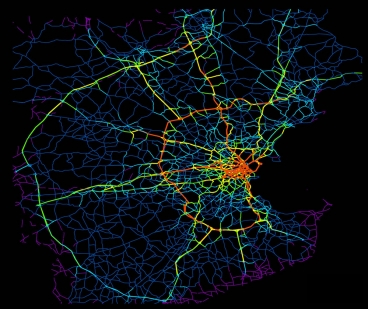 While driving around using your cell phone is dangerous, there are some tempting new reasons to keep them close by while navigating the streets. The bane of every commuters morning trek is running into a traffic jam, day in and day out. We all know there are those few intersections you avoid like the plague, and others that your willing to gamble on on days that your feeling lucky. There have been a few advancements made in predicting traffic in recent years, mainly traffic information on either Google Maps or on your GPS device. Those same devices may be the key that city planners have been waiting for, data on driving patterns from the commuters themselves.
MIT and UC-Berkeley got their hands on that information for the Boston area and were able to construct a map detailing all of the pain points in the city. Well I am sure many Bostonian's could have point those out themselves, but what they couldn't have done until now is pin point which neighborhoods and intersections are the cause behind the cities gridlock. Specifically, by cancelling or delaying the trips of 1 percent of the commuters they were able to reduce the travel time in the metro area for everyone else, by 18%. While this won't necessarily solve any of today's problems, it's likely have a large impact on future models used the development of roadway additions or reworks.
If reducing traffic wasn't enough, your smartphone is likely going to help you find an open parking spot in the near future as well. With programs in the works in Pittsburgh, LA and San Francisco, wireless low-power sensors in the city's parking lots and garages are giving real time updates of availability to drivers. San Francisco's SFPark Program already covers nearly 20 thousand spaces in the city. The standalone apps have the ability to pay for the parking as well, but we can easily see how utilizing NFC as the payment technology in one of the more generic apps would increase adoption greatly.
While these are both great examples of how we can utilize technology to decrease the hassle of traveling, these are minor to how autonomy in vehicles will completely disrupt how we currently commute. Taking the two above ideas and embedding them directly into routing software of future vehicles will be just some of the ways we will be eliminating the burden of travel in the future.
Leave a Reply